Rocargo Services Bonaire NV was founded on September 17th 1982 in Bonaire, and the company is specialized in ship and liner agency, cargo handling, freight consolidation, custom brokerage and moving services.
The Rocargo Services Group now gives a wide array of services in its field.
Because of the quality of services provided by our dedicated and experienced staff, Rocargo has grown considerably and is at this point the leading company in its field in Bonaire. Its list of representations includes first class principals established worldwide. In March 1995 Rocargo moved to new headquarters. These headquarters include an efficient office and state-of-the-art warehouse facilities, conveniently situated in Kralendijk, the capital town of Bonaire, only a five-minute's walk from the customs office and warehouse as well as from banking and other ancillary general facilities.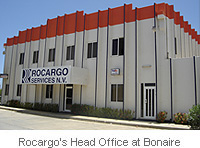 In 1994 Rocargo expanded its activities in Curaçao and Aruba.
This important expansion towards the rendering of services in the oil and shipping industries was at the request and suggestion of major clients.
The fundamental objective was to provide the same high quality, efficient and professional service to the shipping and oil industries just as they had come to expect on Bonaire.
In order to better handle vessels calling at Curacao and Aruba, Rocargo proudly opened its own offices close to the Isla Refinery in Curacao in September 1999 and near the Valero Refinery in Aruba, in May 2001.
These offices are also well equipped with all modern communication systems, staffed by experienced personnel. Rocargo Curacao office has easy access to all Curacao ports, dry-dock, downtown area and airport. Rocargo Aruba office also is excellent located in Lago Heights, San Nicolas, just outside the Valero Refinery.